TEACHER'S MANUAL AND EDUCATIONAL PACKAGE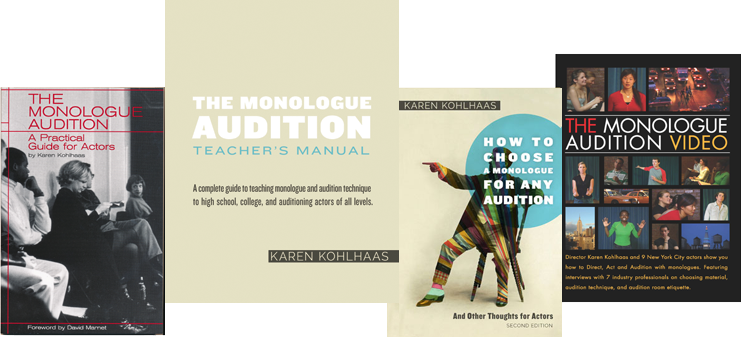 Many acting programs still do not teach their students a complete approach to monologues and auditioning—even though these skills are essential to being accepted for advanced training and for entering the professional world. Join the 400+ colleges, schools, and teachers who have ordered and implemented these unique educational products in their classrooms, and help your students LOVE to audition with monologues.
The Educational Package
includes the Teacher's Manual (see below) and Karen's DVD and 2 books.
$250 PACKAGE TEMPORARILY UNAVAILABLE; Order Manual, DVD and book separately on sale! + s/h.
Order
"The whole package is really terrific. I tell my students that I wish we had been trained effectively in the fundamentals of auditioning instead of the sort of haphazard way one usually had to learn. I think this is one of the most important areas of an actor's education, and you provide a very focused, positive, no-nonsense approach to the process."
—Mary Guzzy, Corning Community College
"I read The Monologue Audition: A Practical Guide for Actors and it was a revelation to me. It helped me enormously in coaching my students for college auditions, not to mention how it inspired me as a teacher. Thank you for your insight and generosity."
—Robert Laconi, Director, Theatre Arts Center, New York
THE MONOLOGUE AUDITION TEACHER'S MANUAL
The 246 page manual includes: A detailed Monologues 1 curriculum and lesson plan. This is the curriculum I teach in my private workshops in New York City, and in the Atlantic Acting School's New York University and conservatory programs: How to Direct, Act, and Audition with monologues. In addition, the Audition Technique lessons teach actors how to handle all the non-acting parts of their auditions with graciousness, confidence and ease, and are applicable to all kinds of auditions, job interviews, speeches, and presentations.
15 additional chapters enable you to custom-design a Monologues 2 curriculum to best meet your students' needs. Chapters include: Advanced Monologue & Audition Skills, application of the techniques for Songs, Public Speaking, Presentations, Job interviews, School & Community Projects, and more. Manual Only: $225 | Sale $100 + s/h through Aug 31, 2020. Order
"I have been using your monologue approach for a while as an actor, and recently began teaching it to my students. I just ordered your teacher's package and simply wanted to thank you for your work and for your contributions to our art. It is always wonderful to come across something that you resonate with and that was the case for me with your book, "The Monologue Audition."
—Robb Maus, Truthful Acting Studios, Orlando, FL